---
Enhance your look with our fascinating collection of natural stone rings
Engagement rings are one of the most symbolic and romantic pieces of jewelry you can give a woman. Whether in yellow gold, silver or gold-plated, these jewels are often adorned with fine stones and designed to be trendy. However, there are also fancy natural stone rings, perfect for women who prefer more discreet jewelry. Whether you're looking for a silver or gold ring, there's an infinite choice of models on our boutique to suit all tastes and budgets. In this article, we'll explore the different options to help you choose the perfect natural stone ring for your loved one. We'll also give some tips on how to choose the perfect ring and get the most out of it.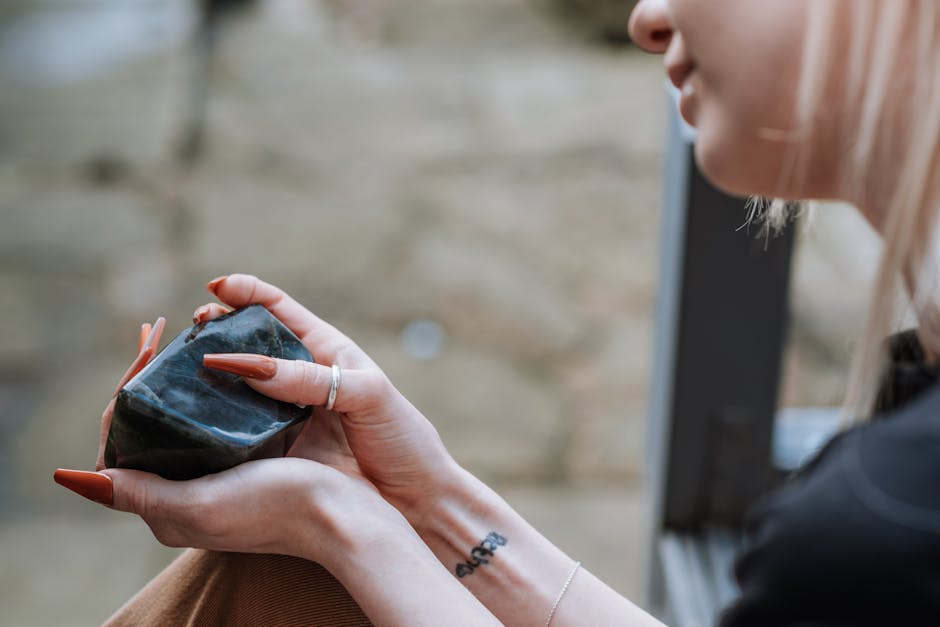 Enhance your style with our collection of natural stone rings.
There are many advantages to wearing natural stone rings. For one thing, they can add a touch of elegance to your look. Gold rings adorned with natural stone are generally durable and require very little maintenance. So you can wear them for any occasion.

Our women's ring collection offers a wide variety of styles to choose from. Whether you prefer simple or bold pieces, we have something to suit your taste. The ring or pearl ring, for example, is perfect for ambitious women. The flower ring and solitaire ring, on the other hand, are two designs for the naughty girl.

We also have a range of colors and precious or semi-precious stones available in our boutique. You'll find a wide range of products perfect for enhancing your outfit.
What makes our natural stone rings so fascinating?
Precious stones with vivid colors and smooth textures
Our white gold, white gold, gold-plated and silver-plated rings feature beautifully colored, smooth-textured gemstones. Our craftsmen specifically choose gemstones that are cut and polished to perfection. This technique makes them sparkle and shine at all times. Our gemstone engagement rings are the perfect accessory to add a touch of elegance.
Rings that enhance your look
Rose and yellow gold rings are not only beautiful, they're also versatile.

They can be worn for any occasion, from casual to formal. Like all gold jewelry in the jewelry world, rings also add a dressy or casual touch.

Whether you're looking for a trendy precious piece or a simple, understated ring, our jewelry collection has something for everyone.
Style tips from our rings
How to choose the right ring?
Choosing the right ring can be a difficult, even tricky task. But our boutique offers unique, personalized natural stone rings. What's more, we have a wide variety of colors and styles to choose from. Here are a few tips for choosing the perfect white gold ring:

- Consider your complexion: people with cool complexions opt for rings with gemstones in shades of blue or green. These are fine rings with emerald or jade stones. For warmer skins, earthy tones like red, ruby or brown are recommended.

- Choose a style that complements your outfit: if you have a casual dress style, opt for a simpler ring design. Plated rings or gemstone rings are perfect. But, if you're dressing for a special occasion, try a more assertive piece of jewelry.

- Think about the type of metal you want: silver and platinum go with any outfit. Gold, on the other hand, tends to complement warmer skin tones better.
How to wear natural stone rings for every occasion?
Rings are timeless accessories, so versatile that they can be dressed up or down depending on the occasion. Here are some practical tips on how to style our natural stone rings for any event, festive or otherwise:

- For a casual day, pair a silver ring with jeans and a solid-colored T-shirt.

- To dress up an outfit for work or any event, pair a gold ring with a tailored suit or cocktail dress.

- For a night on the town, opt for an eye-catching solitaire ring. Choose a bold color or unique design.
Conclusion
Choosing the perfect ring for a woman can be a challenge, but with a range of natural stones such as emerald, ruby, topaz and tiger's eye, there's an option for every taste. What's more, the ability to personalize your choice by working with an artisan or consulting an online jewelry store can help you create a one-of-a-kind ring that will be cherished for years to come. Yellow gold rings are also a popular choice for men, with options ranging from classic designs to more contemporary styles.

They can also be worn alone or stacked for a layered effect.

The moonstone necklace is another must-have piece of jewelry in this collection. Moonstone necklaces can be simple or adorned with pendants, such as moonstones cut into moon or star shapes. Moonstone necklaces are an excellent choice for evening wear or to add a touch of sophistication to a casual look.

The moonstone ring and moonstone necklace are two pieces of jewelry that work perfectly together. By wearing them together, you create a visual harmony that highlights the natural beauty of moonstone. The combination of a moonstone ring and necklace is also an excellent choice for a wedding look, as it adds a touch of glamour and romance to the bride's outfit.

In conclusion, the moonstone jewelry collection is an elegant and timeless choice for all women. The moonstone ring and the moonstone necklace are two pieces of jewelry that work perfectly together and can be worn on any occasion. Moonstone jewelry is also an excellent choice for a unique and memorable gift for a loved one. Feel free to explore the moonstone jewelry collection to discover beautiful designs and jewelry of exceptional quality.

Whether you're looking for a ring for women or men, online or in-store, you're sure to find something to suit your taste when you visit our boutique.