---
Capture the magic of earrings: the perfect accessory for your style
Did you know that women's earrings add a touch of style and personality to your look? Whether you prefer a simple stud, a hoop or a dramatic hoop, earrings suit every taste. In this article, we'll talk about the different types of pendant, creole, bohemian and feather earrings available. We'll offer some tips on how to find the perfect set, and give advice on how to care for them so they look great all year round.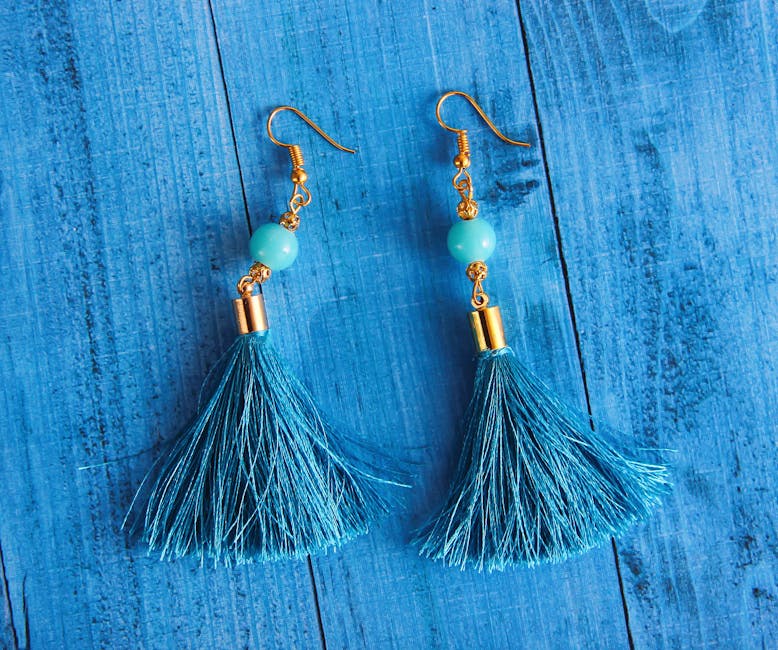 How can earrings complete your look?
Different types of earrings
Earrings are timeless pieces of jewelry worn on the ears. They can be made from a variety of materials, including metals, precious stones, pearls, shells and more. Earrings come in many shapes and sizes. They can be worn for formal or casual occasions.

You can choose between several types of earrings:

- stud earrings: these are small earrings that sit close to the earlobe. This model is very popular and can be worn with any outfit.

- dangling earrings: these dangle from the earlobe and come in a variety of styles. Hanging earrings dress up any outfit. Perfect for special occasions (weddings, christenings, engagements).

- Creole earrings: these original earrings are another popular choice. Available in a variety of sizes, small gold-plated or white gold creoles hug the earlobe and make a bold statement.

- Chandelier earrings: these dramatic earrings feature a series of rows or strands that dangle from the lobe. These women's earrings are usually reserved for parties, but can also add a touch of glamour to your everyday look.
How to find earrings to complete your look?
The key to finding the perfect pair of earrings is to choose those that complement your personal style.

If you prefer a more sober look, opt for simple studs or small hoops. For something more dramatic, opt for a pair of chandeliers or dangling earrings. And if you want to make a real statement, try wearing several pairs at once!

When choosing your next pair of glasses, keep in mind what you'll be wearing them with. If you're looking for an accessory to wear with casual clothes, like jeans and a t-shirt, then studs or small bohemian hoops might be your best bet.

On the other hand, if you're going to wear something dressy like a cocktail dress or evening gown, consider a pair of chandeliers or drops. Whatever your style, there's bound to be a fancy earring to suit you perfectly!
What are the most popular materials for earrings?
Earrings are available in a wide variety of materials, from classic gold and silver to more modern materials such as acrylic or plastic. The most popular materials for earrings are :

Yellow gold: this classic metal never goes out of fashion. It goes with any outfit and any skin tone.

Silver: silver is less expensive than gold and has a cooler tone that some people prefer.

Acrylic: this lightweight material is available in a wide range of colors, making it perfect for trendy earrings or fun everyday pieces.

Plastic: plastic is often used for costume jewelry or to make children's earrings.
What are the earring styles?
There are thousands of earring styles, but some shapes are more popular than others. The most famous styles include :

Small, original earrings rest close to the earlobe and are held in place with a stem and butterfly backing. Studs can be made from any material and come in a wide range of designs, from simple metal balls to gem-encrusted flowers.

Creole earrings consist of a circular piece of metal (or other material) that fits snugly around the earlobe. Hoops can be small or large, simple or decorated, and are worn by people of all ages.

Hanging earrings are available in an infinite variety of shapes and sizes. They can be made from metals, plastics, pearls, gemstones or just about anything else you can think of!

Chandelier earrings have a more dramatic style. They feature several tiers or strands suspended from the main body of the earring. Chandelier earrings are often quite flashy and dressy, making them perfect for enhancing your feminine outfit.

Cufflinks are not considered "earrings", but they serve a similar function. Cufflinks are generally for men (although there are cufflink styles for women). They consist of two small disks connected by a short chain. The discs are inserted into the buttonholes on either side of a shirt cuff, and then fastened together to hold the cuff in place.
What are the current trends?
The world of earrings is constantly evolving, with new styles and materials emerging all the time. Some of the latest earring trends include:
Geometric shapes
Earrings in geometric shapes such as triangles, hexagons and circles are very popular at the moment. They can be made of metal, plastic, wood and more. What's more, they're available in a wide range of colors and designs.
Minimalist style
These simple, understated pieces are often made of metal or leather. They feature clean lines and minimal embellishments.
Trendy earrings
Opt for trendy, extravagant earrings can be big, loud and colorful. They're perfect for making a fashion statement.
How to care for your earrings?
To keep your jewelry looking its best, follow these simple tips:

-Remove your jewelry before showering, swimming or cleaning.

-Avoid spraying perfume or hairspray directly onto your jewelry.

Wipe off make-up before wearing jewelry.

-Gently wipe your jewelry with a soft, damp cloth after each use. This will remove any body oils, sweat or dirt that may tarnish. You can also use a polishing cloth specially designed for gold and silver jewelry.

If your piece is particularly dirty, you can soak it in a bowl of lukewarm water with a few drops of washing-up liquid. Let it stand for a few minutes before gently scrubbing it with a soft toothbrush. Rinse well and dry thoroughly with a soft cloth.

-Avoid using harsh chemicals or abrasives when cleaning your jewelry. These products can damage the finish and/or stones of your jewelry. Abrasives can also scratch metal surfaces.
How to store earrings?
Here are some general tips for storing your sterling silver or gold jewelry:

- Store each piece of jewelry separately so it doesn't get scratched or tangled with other pieces.

-Be sure to put soft pads, hooks or earring holders in jewelry boxes to avoid damage and prevent fragile pieces from getting lost.

- If you have sterling silver jewelry, wrapping each piece in acid-free tissue paper will help prevent tarnishing. You can also buy anti-tarnish strips to put in your jewelry box or drawer.

-Be careful not to overload jewelry boxes or drawers, as this can warp the wood or tear the lining.
Conclusion
For women, earrings are the finishing touch to brighten up any outfit. Elegant and trendy, this type of jewelry will be the ideal gift to enchant your companion. With so many different types, materials and styles to choose from, there's sure to be a pair of earrings perfect for your loved one in our store. And don't forget to take good care of them so they last longer.